Gender: Male
Location: Scotland
Rank: Ace Attorney
Joined: Fri Jul 11, 2008 4:30 pm
Posts: 14185
I can confirm he's not a bot, though for all the content he's posted it may as well be.
Welcome to CR and all but we're having a bit of a spambot crisis right now, so having a username that's seemingly a random assortment of letters (Chris Dove, I get it but some might not) and posting a single link off-site without much explanation can look pretty bad.
Though anyway I reckon you advertise a bit more information about what you are looking for in the trial here rather than the document you provided.
---
Made by Chesu+Zombee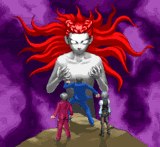 You thought you could be safe in your courts, with your laws and attorneys to protect you. In this world only I am law, my word is fact, my power is absolute.