Takumi tweeted a bit on the 3DS release of Apollo Justice today, together with a somewhat familiar-looking picture. Translation below.
Good evening, everyone. I've been down the last week because of a cold and while I enjoyed my days as one of the ill, but even I have grown sick of lying down all the time, and returned to the office today. Please take care of yourself. The common cold this year has been a nasty one from the start.
Tomorrow, Ace Attorney 4 will be released on 3DS. They even asked me, so I'm scheduled to appear tomorrow at the event (carrying with me some leftovers of my cold...). I had nothing at all to do with the development of the 3DS version this time, so I'm not sure whether I should be the one to appear though.
The Ace Attorney release events:
Tokyo: Bic Camera Shinjuku Station West Exit
Osaka: Joshin Denki DiskPier Nipponbashi
The events start at 18:30. I'll appear in Tokyo, and Nuri in Osaka...!
The DS version of Ace Attorney 4 was released in 2007... That's ten years ago already. Usually I'm credited with Plannning/Scenario/Direction, but for this game, I was credited for Original Concept/General Supervision. Putting the details aside, this game was made in a turbulent time, when we tried a lot of things out also in relation to the direction of the future of the series.
I moved away from Ace Attorney after that and made Ghost Trick. The experience I had developing 4 had an enormous influence on my ideas on how to make games afterwards. In that sense, this was a very important project, I now realize.
So as I reflected on those times, I looked through some of the old files, and there I found a nostalgic photograph. With the whim of someone who has just recovered from a cold, I post this photograph reminding me of my past...
Is it a sad photograph of someone who is scream all the stress of daily life at his beloved umbrella... or is a sad photograph where someone is posing for a shot in the opening scene of a certain episode?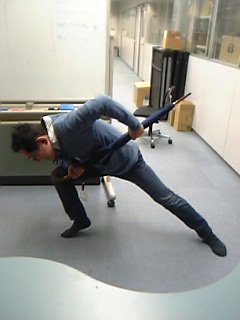 "Let's rock, guys!"
By the way, the photograph is dated November 27, 2006.
Anyway, Nuri, whom I first worked with with the previous game, Rise from the Ashes, became the main designer for this game, so in that sense Ace Attorney 4 is a game to remember. He and I will appear in Osaka and Tokyo tomorrow, so please swing by!
After the event at Bic Camera, Mr. Eshiro and I are supposed to go to the Capcom Cafe in Shinjuku in the evening. If you have the time, come by too. I've heard rumors we might or might not have a special menu.... Anyway, I hope to see you tomorrow!
"One dumbbell, Watson! Consider an athlete with one dumbbell! Picture to yourself the unilateral development, the imminent danger of a spinal curvature. Shocking, Watson, shocking!" - The Valley of Fear