Gettin' Old!
Gender: Male
Location: Scotland
Rank: Ace Attorney
Joined: Fri Jul 11, 2008 4:30 pm
Posts: 14357
Hah that's pretty good as always.
I know a couple folks who will be utterly stoked that a new animal crossing is in the works.
Personally though I'm thrilled most by the sight of their Final Fantasy lineup. I mean I'm pretty sure it's the first time those old mainline games have been on a Nintendo platform so I'm happy to see that cooperation. Might play FF9 again when it comes out.
As cute as their videos explaining stuff are, I don't think they'll really sell anyone on that online service. Cloud saving is a great insurance sure but they are still mostly just charging people for a service they've always offered for free with the online stuff. Their retro game library I don't think will do much for me personally. While it looks great, I've been down that road before when I got the 3DS Ambassador program and retro games are a nice novelty for a day or so for me but I'll hardly touchy them after that.
I mean I'll play monster hunter and smash online most likely so I'll probably need to get it but I really hope their extra deals for members turn out ok. If there's a nice discount on their products like with PlayStation plus that'd be pretty good.
---
Made by Chesu+Zombee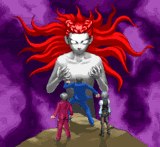 You thought you could be safe in your courts, with your laws and attorneys to protect you. In this world only I am law, my word is fact, my power is absolute.