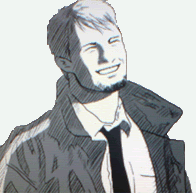 .......
Gender: None specified
Rank: Decisive Witness
Joined: Tue Feb 27, 2007 5:43 am
Posts: 150
I hope it's okay for me to post this - I had some questions about the Japanese version of Layton Brothers, and since I know there are a few Japanese speakers and Layton fans here, I thought it may be worth asking my questions here.
Spoilers for the entirety of Layton Brothers.
1. I heard the Japanese version of Layton Brothers gave you a ranking at the end of the case which partially depends on whether you pick the right suspect at the start of the case; how is this handled after case five, since that's the last case where you get to pick a suspect at the start of the case?
2. In case five, Alfendi says the last time he worked with Justin was at a place called Radmond Castle, but after case five, it's always called Forbodium Castle (I assume they have to be the same place), are there two different names for the castle in the Japanese version?
3. In the English version, a number of characters, including Lucy, speak with a regional dialect; did any of the characters have regional accents in the Japanese version?
4. There's a theory that Alfendi doesn't actually have a brother, and the so-called brother is actually referring to Alfendi's split personality. I personally don't believe this theory, but is there anything in the Japanese version to prove or disprove this theory? Doesn't (placid) Alfendi mention that his brother is younger than him?
5. In the original case file Diane gives Lucy at the end of case eight, in English the description says that the file was created by DCI (Detective Chief Inspector) Alfendi Layton, instead of DI (Detective Inspector) - was this the case in the Japanese version?
6. In case one, in the hint conversation for the lettuce in the sandwich, Alfendi mentions that he often orders pizza delivery since he thinks "catering for individuals is a waste of time and energy" - does he do this in the Japanese version as well?