---
Okay, since the original GS5 PYP is just shy of 4 years old at this point, and we've had all sorts of users coming and going since then, and I don't want to point-tally 300 entries from users who might not be coming back, I think it's easier for everyone involved if we just start this fresh. If you entered in the original thread, please repeat your entry here (or come up with a new one). If you're new to PYP, the rules are very simple:

Write up a short description of what you think the GS5 prosecutor will be like and post it to this thread. You can be very vague or very specific. You can name past prosecutors or characters. But remember, this is for the MAIN prosecutor/rival (cases 5-2 and 5-3), not the starting prosecutor (most likely Payne?) and not the guest prosecutor. If you enter "Klavier" and he shows up for a single case as the guest that does not count.

So what makes you a winner? Each entry will be broken down into specific traits, and each of those traits that fit the new prosecutor will count as one point in your favor. Last time, some of the winning entries included details such as "a musician" "wears purple" and "has a familial relationship with another character in the cast." Traits as simple as male and female also count, along with personality, motivation, courtroom traits, etc.

Your point score is not penalized by the number of things you get wrong, it is only affected by the things you get right, so there is no harm in throwing out wild ideas about background and gimmick. But you cannot enter conflicting information (such as, you can't say "It'll be a guy!" followed by "but it might be a girl!")

Once the new prosecutor is announced, the very first time shown or named or announced, the thread will be locked and the judges (your forum mods and admins) will comb through the entries and add up the points. Whatever the highest number of points turns out to be, those people will win a prize.

Of course, if someone simply enters "I think it will be Lana Skye" and that turns out to be correct, there's no way to put a point value to that. In that case, anyone who entered Lana would be a winner, and point values would not matter.

And speaking of prizes, in light of this very special occasion, I have unearthed, from the deepest recesses of my closet, a special prize: Blue Badger key covers!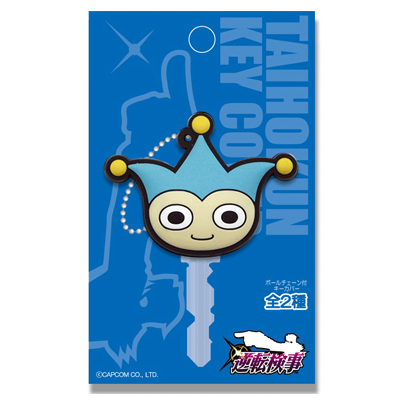 These are out of production and they're still in their packaging, so this could be your last chance to get one in good condition. But I only have five, so if six people guess "Lana Skye" and are right, we might have to have a sudden death after the game's release or something, or else I'll find something else and we draw straws to see who gets it... Either way, don't forget to enter! You've got nothing to lose!

Because we'll be pointing and naming winners based on the first round of information we get on the character, before the game is out, background details that might not be revealed until late in the game will not count toward your score. If you guess the prosecutor is a murderer, that likely won't be apparent until we've played the game, months after this contest is over. So when creating your entry try to focus on details that are likely to be revealed immediately (age, looks, personality, quirks, gimmicks, relations) rather than history or ultimate fate.

This is a forum contest only: only entries posted right to this thread will be accepted. You are allowed to edit your entry right up until the prosecutor is revealed.

If you have questions about the contest, please direct them to the news post announcing the contest (in Trial Minutes), not to this thread. This thread is FOR ENTRIES ONLY. Do not comment on other entries, either.

Have fun and good luck



PS if your entry includes GK2 spoilers, please tag them.

EDIT: Because there's a possibility we'll be getting a hint about the prosecutor at this year's TGS, I'm going to be locking this thread on Sept 19, through the end of the show, just in case. This does NOT mean the contest is ending. If we get nothing, the thread will reopen and continue until we have something to judge. But if we get so much as a shadowy-figure, this thread will remain on lockdown.

So enter while you can!